We, KYOWA INDUSTRY Co., Ltd., are looking for people who are full of motivation with 3 keywords (positiveness, unity, perseverance).
Why don't you take advantage of acquired skill for our company which is proud of producing the best quality products in the world?
We are looking forward to seeing you all.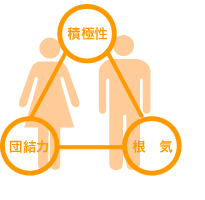 Ā@Ā`PositivenessĀ`
People, who have positive attitude to learn by themselves, take action and spare no effort to create new value.
Ā@Ā`UnityĀ`
People, who accept their crew, respect each other and work together to our goal.
Ā@Ā`PerseveranceĀ`
People, who have responsibility of your work and make it with passion to the finish line.