Our products are made mainly from polypropylene which is most suitable for packing materials and cable filling yarn.
" Our products are excellent at quality, shape and appearance by integrated system of production from film foaming-stretching-winding and stringent quality control.

¦ Packing materials (neocode / bectron rope) and cable filling yarn were approved patent and utility model right by joint application with Tokuyama Corporation
Packing materials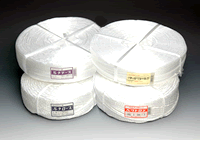 " Because packing materials are superior in term of tensile strength, compressive strength and impact strength, also surface is hard and has strong frictional strength, which are chosen from lots of customers as in packing industry, agriculture, fishery and construction industry.
" We produce packing materials based on own process method and cable fineness of these products are rich compared with competitorfs.
" We will respond to each customerfs request such as weight, width, length and color.
Cable filling yarn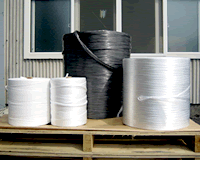 " We provide two type of filling yarn. One is film type, the other is code type. Customers can select in conformity with their process of manufacturing.
" We produce cable filling yarn based on own process method and these products are more rich, compared with our existing products.
" We have large-scale winders, so we can serve various size of role to suit for customerfs request.
@Then we plan and produce our products by properties with customerfs request, we would like to supply abundant variety of products.
Product inquiries
We accept inquiries regarding our products from 'inquiry form' in approximately product information page.
We also accept inquiries by phone or fax, please feel free to contact us.